A Life of Service Nearly Ruined
For nearly twenty years, Eddie Gallagher served as a Navy SEAL. Eight overseas combat deployments, two Bronze Stars and one Navy Achievement Medal, both with "V" for Valor. He was a model war fighter, ready to retire
Then, on September 11, 2018 he was arrested and wrongfully charged with war crimes. Nearly eight months of pre-trial confinement followed.
Only after a national outcry, a grassroots campaign, and an intense legal battle was Eddie found not guilty of the most serious charges. He was finally free – proven innocent – but came dangerously close to being crushed by a military justice system corrupted by political correctness.
Read Eddie's Story »
A New Opportunity To Help Others
Having lived this nightmare, Eddie and his family are uniquely aware of the challenges facing wrongly accused service members, first responders and their families who are entrapped in legal proceedings.
We chose the name Pipe Hitter Foundation paying respect to the term used to describe someone you want with you during tough situations, someone who has your back and is willing to sacrifice and work hard to get the job done-The Pipe Hitters.
The men and women who've dedicated their lives to protecting us should know we have their back. It is vital we highlight their stories and support them in their fight for justice. That's why the Pipe Hitter Foundation was founded -- and for us, the fight has just begun.
Our Mission »
Pipe Hitter Foundation Keys of Gratitude
The Pipe Hitter Foundation invites you to Pay It Forward to our service members and first responders with a gift that gives back.
For every Pipe Hitter Foundation Key of Gratitude that is purchased, 100% of the proceeds will go back to the Pipe Hitter Foundation so that we can continue to serve those that serve us. It is the perfect gift to show your appreciation to a service member or first responder and know that you will also be making an impact in someone else's life.
Have an event coming up and looking for an unique gift for your guests? Not only will you be supporting The Pipe Hitter Foundation but you will also be providing your guests with an opportunity to continue to Pay It Forward and share with them how they can present their key to thank someone for their service.
We look forward to your stories and photos on how you presented your key to the dedicated men and women that protect us! If you are the recipient of a key, please share your story with us as well!
Military Key of Gratitude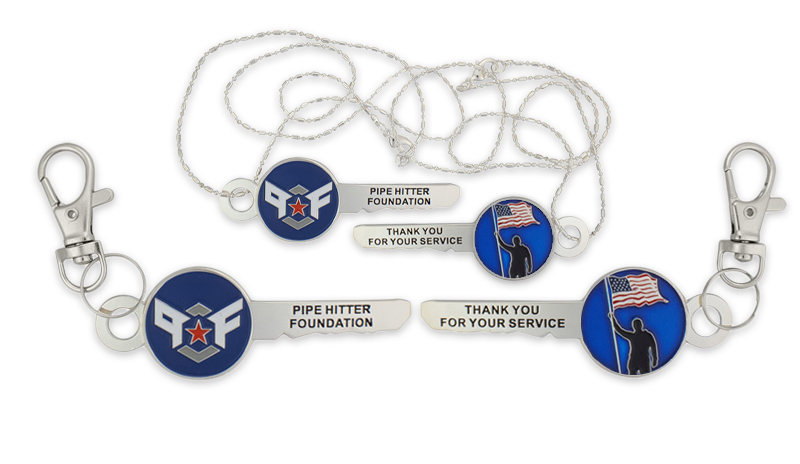 Law Enforcement Key of Gratitude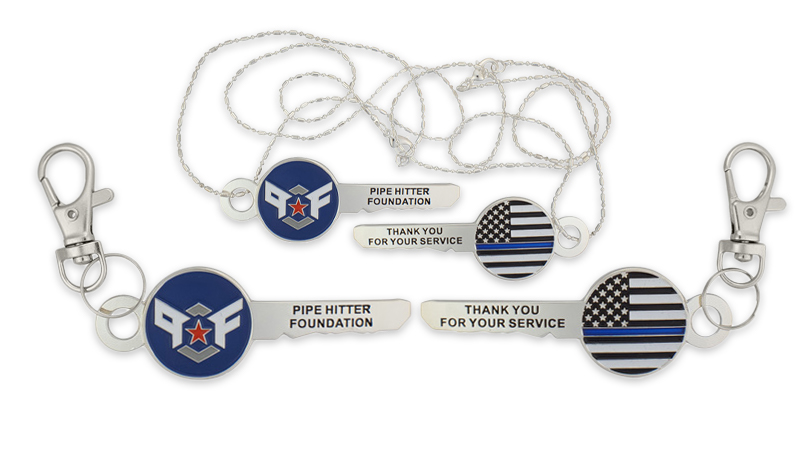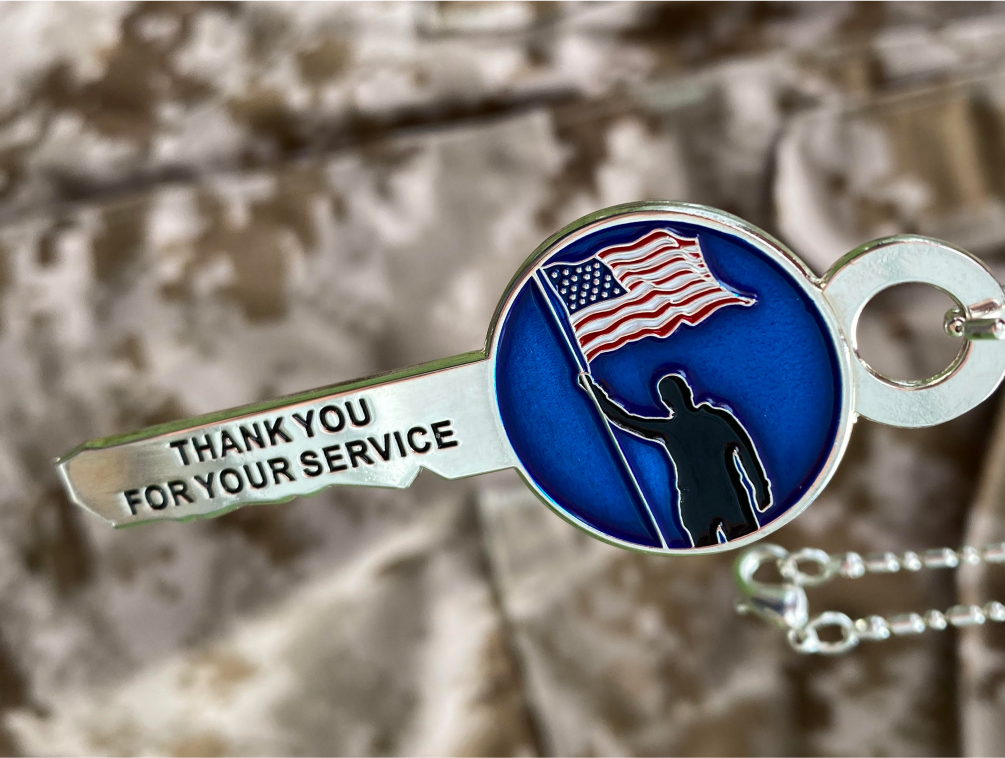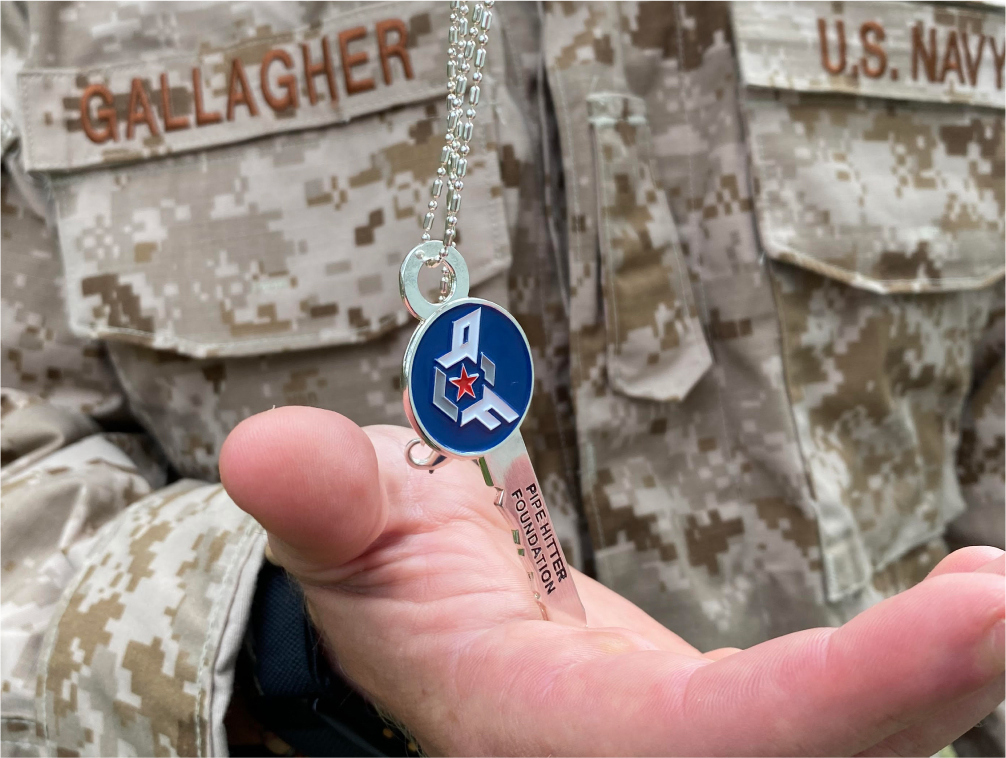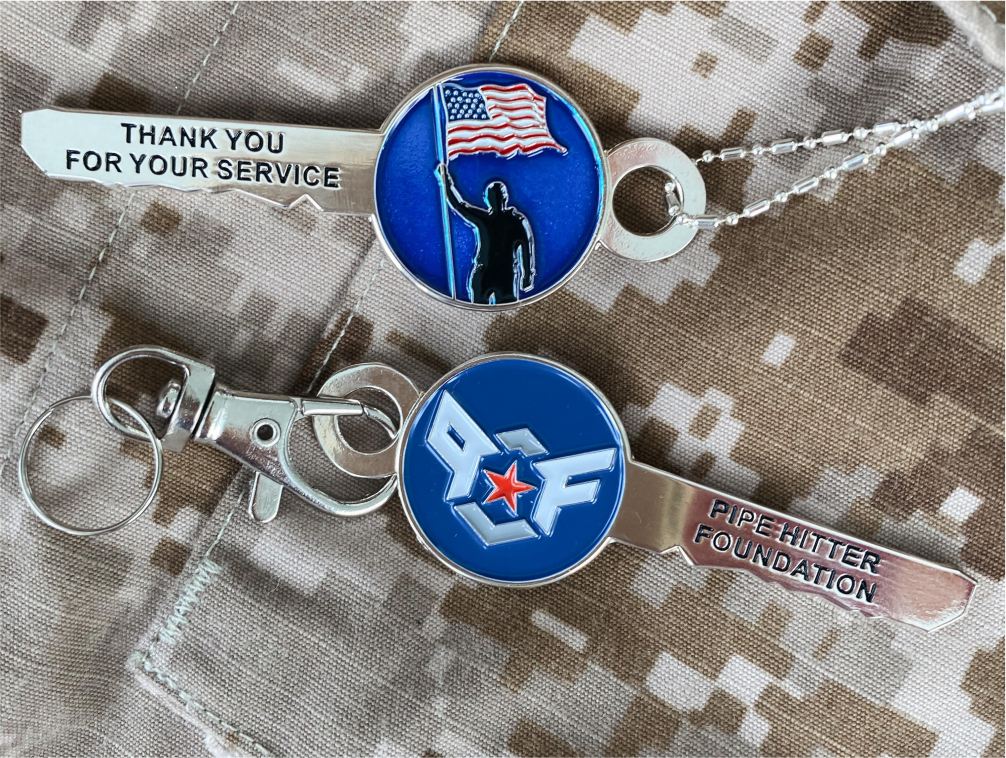 The Pipe Hitter Foundation Podcast
Our podcast series highlights the people, cases and causes the foundation is focused on. It's all about our mission – serving those who serve us, and this is a way to go into greater detail, telling the stories and shedding light on the many heroes of our society and some of the injustices they are facing.
From brilliant clinical and research psychologist Dr. Christopher Freuh, who shared the effects of combat on our military, to individuals we have been able to assist like Navy SEAL Aaron Howard or the mothers of two service members who took their lives and how their families are working to bring an end to this crisis…these are their real stories and we honored that they are trusting us to share them.
Stay tuned for more episodes, feel free to share and we hope you enjoy this new venture!
Support PHF with Official Exclusive Merchandise
In partnership with Nineline apparel, a veteran owned company, we are proud to offer you our line of Pipe Hitter Foundation merchandise. It is an easy and fun way to support our foundation and the work that we are doing! 100% of the proceeds go to supporting our mission and allowing us to continue to Serve Those Who Serve Us.
Shop Now at Nineline Apparel